Former Police Chief's Mugshots?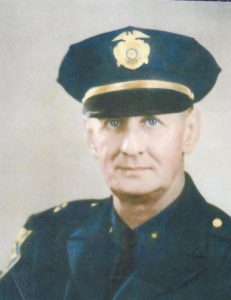 Sonora Police Chief Delbert Gorman (1959-60)

View Photos
Sonora, CA – The collection is almost complete thanks to help from the public to frame former Sonora Police Chiefs.
As reported in March, the department called for the public's help to find pictures of former Chiefs to mount along a wall inside the station in recognition and honor of them. Later that month, the families of two of the chiefs donated pictures.  One photo was of Chief Charles Hale, who served from 1934-1939 and the other was of Chief William Johnson, who served from 1928-1934.  That left three former chief's pictures still to be found, which one was this week.  Nance Bowell of Valley Springs sent the department a photo of her grandfather , Chief Delbert Gorman. She also gave some background on his time as chief stating he served from September 1959, after replacing Chief Dewey Walker, to July 1960 when he was forced to retire because of a medical issue.  He also owned and operated Gorman's Glass Company and before becoming chief he worked for the Tuolumne County Sheriff's Department for six months.
Here is the SPD's list of the only two remaining Chief's photos needed to complete the collection:
Chief Dewey Walker Chief 1959
City Marshall W.H. Dennis Marshall 1910-1920 (Circa)
If you have or know anyone who may have former chief's photographs, please contact the Sonora Police Department at 532-8141. One note, before 1928 chiefs were called City Marshals.