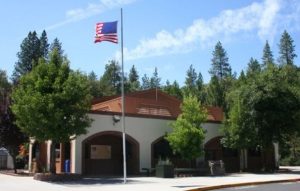 Belleview Elementary School

View Photos
Sonora, CA — Belleview Elementary has hired a new Superintendent/Principal.
The Board of Trustees at a meeting Thursday night appointed Carla Haakma to the position. She has worked for 26-years for the Franklin-McKinley School District in San Jose, which has about 10,000 students. Currently, she works as a District Office Administrator supervising and assessing state and federally funded programs. Haakma calls the new job perfect saying, "It's like the best of both worlds for me. It's such a wonderful community, my kids and my grandkids live close by, and I was looking to relocate. It was the perfect fit."
Haakma's experience includes being a teacher, principal and implementing the new Common Core Standards in her former district. She says her first priority, "I think first you have to get to know your people and what everybody brings to the table. You have to assess your needs…if they're not a lot of needs then it's my role to support what's already put in place and continue doing a great job." Haakma adds that if there are needs, they need to be identified, addressed and then assess the progress.
Belleview Elementary currently shares Superintendent Dr. John Pendley with the Columbia Elementary School District, but he is retiring at the end of the school year. Rather than work out a sharing agreement with another district, Belleview decided to merge the Superintendent position with its Principal position. Haakma's annual salary will be $110,990. Her first day on the job is July 1.