Treacherous Fire Season Anticipated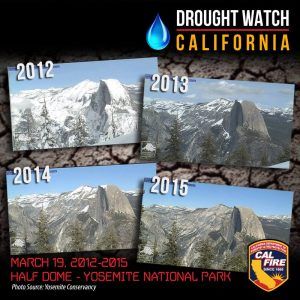 California's Drought

View Photos
Sonora, CA — State officials say now is the time to prepare for the upcoming fire season.
With California in its fourth year of drought, District Five Republican Assemblyman Frank Bigelow says, "It is going to be treacherous this summer. We're going to see a lot of fires, and we're anticipating those this year. So please do your job, and help us by clearing around your home, and make sure you have at least a 100 ft. of defensible space, and even more, if you can."
When clearing defensible space, CAL Fire says it is best to refrain from using powered equipment after 10am, and never when it is windy or hot. Also, trim trees back at least 10 ft. from other trees and 6 ft. from the ground.  Remove all fallen leaves, twigs, needles, bark and small branches. For more information on defensible space, directly from CAL Fire, click here.
The image above shared by CAL Fire was produced by the Yosemite Conservancy, and drives home the severity of the drought. It shows the snowpack on Half Dome on March 19th, over the past four years.