State Studies Marijuana's Impact On Watersheds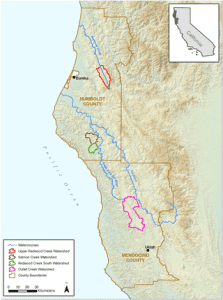 Marijuana Study

View Photos
Sacramento, CA — Environmental scientists with the California Department of Fish and Wildlife (CDFW) has published a study looking at the impact of marijuana grows on California watersheds.
The study concludes that diminished stream flow from the cultivation of thousands of plants is likely to have lethal to sub-lethal effects on state and federally listed salmon and steelhead trout, and will cause further decline of sensitive amphibian species.
The state report, a first of its kind, is entitled, "Impacts of Surface Water Diversions for Marijuana Cultivation on Aquatic Habitat in Four Northwestern California Watersheds."
The study reported between 23,046 and 31,894 plants in each watershed area and estimated a daily water need between 138,200 gallons per day and 191,264 gallons per day. Three of the four watersheds observed in the study went dry. The data was gathered from several sources including National Oceanic and Atmospheric Administration (NOAA), Google Earth, and on-site observations during the 2014 dry season. The study pointed out it is likely few of the grow sites have legally registered their water diversions, based on how few filed in their individual counties.
CDFW Assistant Chief Brian Naslund says, "This research paper demonstrates the importance of greater regulatory efforts by state agencies to prevent the extinction of imperiled fisheries resources." CDFW's Law Enforcement Division has created a new Watershed Enforcement Team (WET) program. Naslund says the team "will work with agency partners to protect public trust resources from the negative effects of marijuana cultivation, which include both excessive water use and pollution."
For medical use, marijuana cultivation is legal in California if growers have the proper CDFW lake and stream bed alteration permits. The CDFW notes that responsible growers help conserve the state's natural resources and are less likely to be subject to enforcement action. The report can be viewed here.