Welcome Wet Weather Nudges Snowpack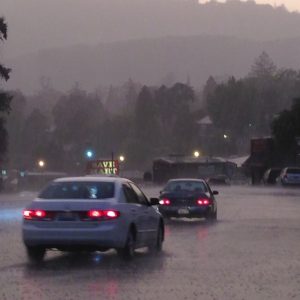 Rainfall makes for possible slick roadways

View Photos
This past weekend's rain and snow brought incremental improvements to the snowpack.
Bear Valley Resort, which makes its own snow, received ten inches to a foot of quality snow for skiing over the weekend, according to spokeswoman Andrea Young, who expected another one to three inches by the end of Monday's snow shower activity.
While mountain operations remain on a temporary hold until there is sufficient snow, weekend storms dumped three inches of new snow at the base of Dodge Ridge and about five inches at the summit, according to resort spokesperson Katie Fromm.
As the ski lifts have been silenced since the end of the President's Day weekend holiday, "It was kind of exciting to see some winter conditions up here and kind of cover the ground," Fromm says. To re-open the slopes, she adds, "We would ideally like to see probably another two feet to kind of get back open again with winter conditions in the forecast as well, so we are staying positive. There is still a possibility of another storm coming in the second week of March that we are watching on…so we're really keeping our eyes on that one, which is good."
Elsewhere, the storms brought as much as 32 inches of the white stuff to the Sierra Nevada Mountains, mainly in the Lake Tahoe area, according to Scott McGuire of the National Weather Service's Reno office. McGuire reports that Squaw Valley received about three feet of snow and that the storms added only about one percent to the overall snowpack.
This Thursday, is when the Dept. of Resources will release its next snowpack study. As of Monday, the statewide snow mass is 13 percent of the March 1 average.
Overall, Mother Lode rainfall from the weekend storms was meager, with the Tuolumne Utilities District (TUD) reporting that its weather station measured just a quarter inch of precipitation through Sunday.