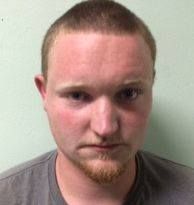 Joseph Cox

View Photos
Sonora, CA – Sonora Police arrest two men for burglary after an officer catches them in the act.
The incident happened just before 2 a.m. Tuesday at Rotary Park near the Dragoon Gulch Trail in Sonora.  Police report an officer doing a patrol check of the area noticed an open door to the Little League utility shed by the baseball diamond.  When he went to investigate, the officer saw a flickering light inside the shed and a Chevy pick-up parked close by with a person sitting in the truck.
The officer ordered the suspect out of the shed and the man out of the pick-up.  Then the officer inspected the door of the shed and determined it had been pried opened.  The man in the shed was identified as Joseph Cox, 20, of Groveland and the man in the truck as Cody Silva, 20, of Sonora.
Both men were arrest without incident.  Cox and Silva face felony charges of burglary and conspiracy to commit a crime.  Chief Mark Stinson says no stolen items were found in the truck as, "It looked like they had just gained entry into the storage shed when the officer arrived…there were no weapons or drugs found at the crime scene."