Sonora Feud Sends Five To Hospital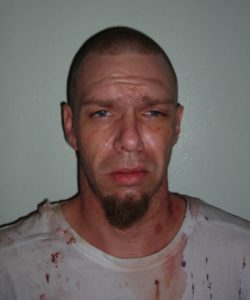 Jason Arnold

View Photos
Sonora, CA — A fight broke out at a Sonora apartment complex reportedly involving a knife and a baseball bat.
The Police Department reports that it occurred in a parking lot at 420 Greenley Road, just before noon on Sunday. A group had gone to an apartment complex to drop off a seven-year-old child for visitation. A verbal dispute broke out between the child's biological parents, 27-year-old Amy Hughes of Sonora and 25-year-old Brad Evans of Sonora. The argument was related to a phone conversation that occurred the night prior.
The mother's boyfriend, 32-year-old Jason Arnold of Sonora came out of the apartment building, and joined the discussion. At this point, Evans took out a knife, and Arnold picked up a baseball bat. The Police Department reports the two then agreed to fight each other "like men" and put down the weapons.
A fist fight started, and several stood around and watched. At one point, Evans friend James Franks, 25, of Sonora, hit Arnold in the head and body, several times, with the baseball bat. Despite the blows, Arnold was still able to pin Evans to the ground. At that point, Hughes picked up a baseball bat and hit Evans multiple times. The PD says 57-year-old Cheryl Howell of Sonora then joined in by also starting to hit Evans with either a bat or wooden club.
All five people involved suffered injuries in the fight, and emergency officials had to set up a triage in the parking lot. Two were taken by ambulance to nearby Sonora Regional Medical Center. The Police Department later placed all five under arrest.