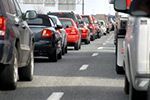 Traffic

View Photos
Sacramento, CA — Democrats in the California Assembly have a proposal designed to improve the state's deteriorating roads.
During the recession, some money set aside for road repairs was diverted in order to keep the government running. In addition, the amount of money received in recent years from the gas tax, the primary funding mechanism for roads, has been declining due to an increase in lower emission vehicles.
Democratic Assembly speaker Toni Atkins is proposing that California drivers pay a $52-yearly vehicle fee. She estimates that it would generate $2 billion annually, which could be spent on roads. "If we invest in our infrastructure, we create jobs," says Atkins. "A billion dollars spent towards infrastructure improvements on our roadways will create 18,000 jobs in California."
The Associated Press reports that Republican leaders in the Legislature are arguing that the state should look for infrastructure repair money elsewhere in the budget before asking Californians to pay more.