Potential Measles Case In Tuolumne County?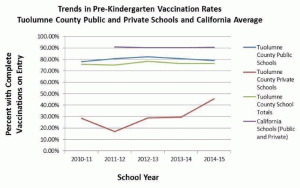 Vaccination Chart

View Photos
Sonora, CA — The Tuolumne County Public Health Department is investigating  a possible case of measles.
Tuolumne County Public Health Officer Dr. Todd Stolp reports that local officials are working in coordination with the California Department of Public Health. Dr. Stolp reports the individual is currently isolated from contact with other people, pending the results of lab testing. The results are expected within 24 hours. Dr. Stolp says the individual being tested is a "middle-aged adult," and not a school age child.
That said, Dr. Stolp is encouraging all parents to make sure children are up to date on immunizations. For the 2014-15 school year, pre-kindergarten children have a 90% vaccination rate, state wide. Tuolumne county's rate has lagged behind the state average, as the local public school rate is closer to 80%, and the private school rate is 45%.
California has now had 84 confirmed cases of measles in recent months. The initial outbreak was tied to Disneyland, but there have now been secondary cases reported.  We'll pass along more information when it becomes available.
The following information about the measles vaccine was provided by Tuolumne County Public Health:
Current measles vaccination recommendations call for:
1) A first vaccination after age 12 months and a second vaccination at 4 to 6 years of age. However, if an infant has been potentially exposed to measles during an outbreak, then the second dose may be given earlier but not sooner than 28 days after the first dose. This decision would be made in consultation with the health care provider.
2) All teens and adults born in 1957 or later should assure that they have received 2 doses of the MMR vaccine.
3) People born before 1957 are presumed to be immune to measles due to the wide circulation of the virus before that time.
4) Because of outbreaks around the world, infants who will be travelling who are 6 months to 11 months of age should receive an MMR vaccine, although this will not count towards the subsequent immunization requirements when the infant is one year of age.
The Tuolumne County Health Department is receiving a supply of MMR vaccine that will be available to local residents who need to update their vaccinations. These will be available at the usual Health Department vaccination clinic on Tuesday afternoons, between 1:00 and 4:00 PM.