Calaveras Arts Council Stays Busy During Winter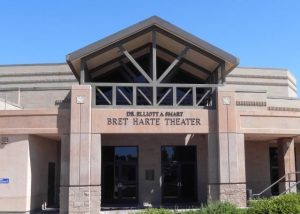 Bret Harte Theater

View Photos
It may be the middle of January, but the Calaveras County Arts Council remains busy during this time of the year.
Mary Jane Genochio, Executive Director, was Friday's KVML "Newsmaker of the Day".
The Calaveras County Arts Council is a private non-profit 501(c)(3) public benefit corporation.
Founded in 1981, their purpose is to coordinate excellence in the presenting and promotion of the visual and performing arts of all cultures for artists, residents and visitors. The staff is comprised of Genochio, a deputy director and a an 11-member volunteer Board of Directors.
In 1990, they established their present office/gallery on historic Main Street in San Andreas.
There are plenty of events that are coming up within the next couple of weeks and months, beginning this at 3 PM this Sunday afternoon at the Bret Harte High School Theater with the Joni Morris tribute to Patsy Cline, as part of the Ovations series of concerts and events.
For twelve years, the Calaveras County Arts Council presented the Sacramento Symphony at public and children's concerts. To keep classical music in the forefront, in 1994 they started Calaveras Classics, which became "Ovations" in 2003, a performing arts series to reflect a diversity of music and dance.
The Ovations series this year will feature a wide variety of performers through Sunday March 8th, 2014 (ending with the Yemaya Salsa Dance Company).
Other acts include the Pacific Guitar Ensemble with Peppino D'Agnostino on Sunday February 8th and Le Jazz Hot on Sunday February 22nd.
The Calaveras Arts Council has many events and fundraisers coming up including the  "Chairs For Charity", the annual buffet dinner fundraiser on Saturday January 31st, which you can learn about on their website at http://www.calaverasarts.org/
As a private, non-profit 501(c)(3) public benefit corporation, the Arts Council is not directly a part of county government. However, they do receive annual in-kind rent support from the County for the office/gallery space in downtown San Andreas.
The "Newsmaker of the Day" is heard each weekday morning on AM 1450 KVML at 6:45, 7:45 and 8:45am.