Mentors For Teenagers Are Wanted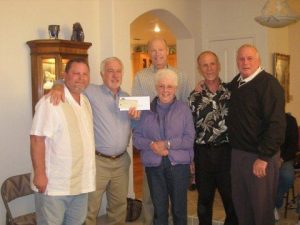 Check Presented To TeenWorks

View Photos
January is National Mentoring Month. One Mentoring Program in Tuolumne County is participating in getting the local word out of just how important and effective mentoring is.
Marci Harnish, Executive Director for TeenWorks, was Wednesday's KVML "Newsmaker of the Day".
TeenWorks is a network of caring and responsible adults committed to helping the "at-risk" youth of Tuolumne County. Through healthy, one-on-one mentoring relationships they seek to provide encouragement, guidance and positive role models for teens in need of compassion and understanding.
TeenWorks is currently providing mentors for youth in the following organizations:
•Juvenile Probation System
•Cal-Safe Program, which assists pregnant teens continue their education
•Hope House, which provides transitional housing to kids from the foster care system to independent living
•Various public schools throughout Tuolumne County
TeenWorks is dedicated to providing "at-risk" youth in the community between the ages of 12-19 with volunteer mentors who have the passion and commitment to come along-side young people who may have little to no hope for their future. Many of the youth that TeenWorks serves are victims of abuse or neglect, familial incarceration, substance abuse, come from single-parent homes and other defined criteria.
Using the mentor model of a formal "one-on-one mentoring" TeenWorks strives to reduce the incidence of delinquency, substance use and academic failure as proven in various research studies. These studies further indicate that formal youth mentoring programs can promote positive outcomes, such as improved self-esteem, social skills and knowledge of career opportunities.
TeenWorks is always looking for more volunteer mentors to join the team. One of their greatest ongoing challenges is having enough mentors to provide for the "at-risk" youth in Tuolumne County. Unfortunately, TeenWorks typically has a waiting list of youth ready to be matched up with the perfect mentor, which often times take quite a while with a limited number of mentors.
If you have ever considered serving in a mentor program, have a passion to encourage teens, or are simply looking to come alongside a "at-risk" youth with little to no hope and provide that guidance and support they never had, TeenWorks would love to provide you with further information on how to become a mentor.
If you can answer "YES" to the following questions, TeenWorks invites you to download contact them for further information:
•Can you commit an average 1-2 hours per week to spend with a teen?
•Are you 21 years or older?
•Do you have a heart to serve the youth in our community?
•Are you a Christian?
For more information, log ontohttp://www.teenworksmentoring.com or call 209-532-3100 or 209-559-3295.
The "Newsmaker of the Day" is heard every weekday morning on AM 1450 KVML at 6:45, 7:45 and 8:45am.