Sonora Grads Driving World Wide Innovation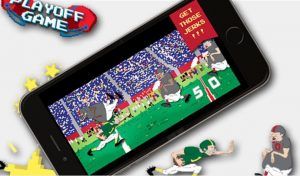 Lanzivision Kickoff Rush

View Photos
Sonora, CA — A Sonora Graduate longs for Sonora while working with several high school friends to create eight successful iPhone/iPad game apps.
John Mikelich, founder and CEO of LanziVision, recently completed his 8th app for the iPhone/iPad. Mikelich graduated from UC Santa Cruz with degrees in Physics and Computer Science. He says, "I met wonderful people in college and beyond, but out of everyone I've met, I keep coming back to Sonora guys."
Mikelich graduated from Sonora High School in 2000 and lives in Los Angeles. He continues to work with several high school friends including Tony Fraguero, of Sonora, who did 2d animation for a space shooter 'Gyro the Robot'. Fraguero also drew a whimsical penguin for LanziVision's follow up game 'Hoppy Penguin'. Sonora High School graduate, Robert Selander, lives in Los Angeles and illustrated a retro 8-bit football game for LanziVision. Daniel Vuyovich is also working with LanziVision to develop a "Magic 8-ball-esq app with a very dry sense of humor." Vuyovich graduated from Sonora High School in 1999, worked as the graphic designer at Black Oak Casino, and is a Senior Graphic Designer at SK&G in Las Vegas. Mikelich and Mario Montez are developing an educational matching game/app where players learn about planets, asteroids, and moons. Montez and his wife are Sonora graduates who live in the central valley.
Mikelich mentioned several high school friends currently living in Sonora and says, "They get to hang out and do all these fun things again and here I am in LA dealing with traffic like a sucker! What an environment in Sonora, there's just something about that place, you get all the positives from a small town, but the benefits of being close enough to San Francisco and Yosemite and Pinecrest and Little Sweden."
Mikelich was well aware of the new Innovation lab that opened in Sonora August 2014. He says, "Both Lisette Sweetland and Tony Fraguero are excited and have talked about it in the past." Mikelich concluded about his large group of high school friends, "They are all so talented, intelligent, driven, and most of all fun. They are in Sonora, striving to make it a more artistic, creative and accepting place. I think that's wonderful, especially for the next generation of young ones from Sonora, because together, there's nothing we can't accomplish."
According to the Wall Street Journal, sales through Apple's iTunes App Store "jumped 50% in 2014. Last year, developers made $10 billion in revenue." In addition, "The gadget giant also revealed this week that it has created or supported over a million jobs. This includes 627,000 jobs in iPad and iPhone applications and 334,000 jobs created as a result of Apple's spending and growth."