Free Climbing El Capitan On World's Toughest Route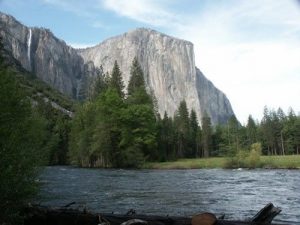 Yosemite - El Capitan

View Photos
Yosemite National Park, CA – If all goes to plan, as early as sometime this weekend two climbers who began their 3,000-foot ascent of El Capitan just before New Year's Eve may complete a half-mile ascent of its Dawn Wall, considered one of the world's hardest and steepest climbing challenges.
The climb is bringing extra attention to Yosemite National Park.
Accompanied by teams, 30-year-old California climber Kevin Jorgeson, of Santa Rosa, California, and 36-year-old Tommy Caldwell, who hails from Estes Park, Colorado are attempting to establish for other free climbers a route across what is one of the planet's biggest, blankest rock climbing canvasses. Slowly scaling their way, they take time, as needed, to rest, protect themselves from winter's wind blasts and, literally, heal their hands of wear and tear from myriad razor-sharp rock points. The men hope to be the first to successfully complete the climb by using only their hands and feet, making use of ropes only to protect themselves against falls. As they cocoon in portaledges to eat and rest, the two are also actively sharing their trials and triumphs in real time on social media.
According to a report filed yesterday by Associated Press, the two, who prepared for more than six years for the climb, are roughly halfway through its 32-sections and now tackling some of the toughest challenges from the exposed face of the world's tallest granite monolith.
It took 27 days for two other notable climbers, Warren Harding and Dean Caldwell (no relation to Tommy Caldwell) to scale Dawn Wall with ropes and rivets, back in 1970. While, throughout the park's history, El Cap has remained a magnet for climbers, since it was first free climbed in 1979 it has continued to beckon more of the sport's extreme athletes to help establish other free climb routes.
While cheering on this extraordinary attempt to conquer Dawn Wall in 2015 through sheer guts and countless hours of planning and pains, the humble bystanders among us who remember the classic Hollywood-conjured "free climbing" attempt of El Capitan by Captain James T. Kirk in the 1989 movie Star Trek: The Final Frontier can give a collective eye roll — and wish for a pair of levitation boots.