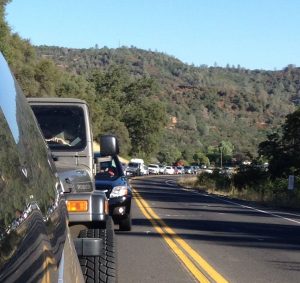 Traffic

View Photos
Sonora, CA —  Planning to hit the roadways this holiday?  You're are not alone.
As previously reported, AAA expects this season to be a record breaker for travel with an estimated 12.1 million Californians taking to the streets.  With that in mind, the Sonora Police Department is offering some travel tips to make it to your destination safely.
Chief Mark Stinson says today's technology can not only help you navigate, it can be hazardous if not used properly.  "It's extremely dangerous to be driving and texting.  Also, you don't want to be to be using your cell phone while driving.  Invest in a hands free device," says Chief Stinson.
Here is the Sonora Police Department's list of additional travel tips:
Plan your trip and drive according to conditions.
Wear your seat belt!  Seat belts are proven to save lives and prevent injuries.
Make sure children are secured in an approved child safety seat.
Get enough rest and don't try to drive when you would normally be asleep.
Don't consume alcohol if you are going to be driving!  Remember, buzzed driving is drunk driving.