New Information On Sonora Shootout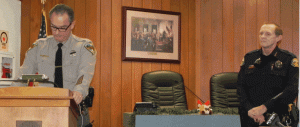 Sheriff Jim Mele And Police Chief Mark Stinson
Sonora, CA — The Tuolumne County Sheriff's Office has released some video of the pursuit, and the names of the officer and deputies involved in last month's fatal shootout with Bruce Snyder.
Sheriff Jim Mele and Sonora Police Chief Mark Stinson held a joint press conference this morning to release the new information.
Mele noted that 911 dispatch received a telephone call on the night of Saturday, November 22, claiming a suspect allegedly had a gun and was trying to break into a home on Orchard Avenue in Sonora. The caller knew the suspect, and identified him as Bruce Snyder.
Snyder arrived at the home in hopes of talking with a female at the residence. The unidentified male who placed the 911 call was able to convince Snyder that the female was not at the home, even though she was there. Snyder then left the area.
Snyder was later spotted and pulled over by Sonora Police Officer Ryan Webb on North Washington Street near School Street. A shootout transpired when Snyder opened fire on Officer Webb.
Officer Webb was hit by a bullet in the area of his hip, and an innocent female bystander visiting from North Carolina was hit by a bullet from Snyder's Smith and Wesson, model 410, .40 caliber pistol. Officer Webb fired 16 rounds, and it is unclear at this time how many were shot by Snyder. The Department of Justice is continuing its investigation into that matter. Multiple rounds hit nearby vehicles and businesses.
It's believed that Snyder was not hit during the first shootout, because no blood was found in his vehicle.
Snyder got back into his El Camino and led Officer Webb on a chase southbound on Washington Street, over to Highway 108, turning west, then eventually turning on Stockton Road (Highway 49), and back to downtown Sonora.
Snyder pulled over, and a second shootout transpired, and a total of 39 shots were fired by Officer Webb, Deputy Jerry McCaig and Deputy Scott Meyer. Snyder was eventually hit 14 times.
A forensic autopsy found that Snyder's blood alcohol level was .25, but there were no other substances in his system.
Sheriff Mele noted that during interviews, people close to Snyder expressed that he had previously made statements about being willing to open up fire against law enforcement, if circumstances ever came to it, as he did not want to go back to prison.
You can click on video of the second pursuit by clicking on the box in the upper left hand corner. The video is the onboard camera of Officer Webb's vehicle, and travels from downtown Sonora, to Highway 108, Stockton Road, and eventually back to downtown. The audio in the background is the dispatch radio, and Sheriff Mele. The video displayed shows the law enforcement response, but does not actually show Snyder being fatally shot.
The Sheriff's Office indicated it is releasing video from the incident so that public has a clear understanding of what transpired that evening. View on mobile devices with YouTube here.