Flood Watch For Tuolumne And Calaveras Counties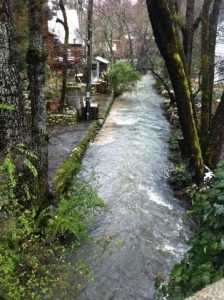 Murphy's Creek

View Photos
A wet and windy storm is expected to bring significant rain and snow to Northern California from Wednesday night into Friday.
In anticipation, a Flood Watch has been issued for both Tuolumne and Calaveras Counties from Wednesday night through Friday evening.
A Flash Flood Watch has also been issued for the Rim Fire Burn Scar from Thursday morning through Friday evening.
The significant rainfall along with the rains earlier this month will lead to rises on the small streams and flooding in poorly drained areas. Debris flows and flash flooding over recent burn scars are possible with saturated soil and periods of moderate to heavy rain.
Rainfall amounts forecasted range from one to three inches in the central valley, two to five inches in the Mother Lode and two to eight inches in the Sierra Nevada.
The National Weather Service has also issued a High Wind Watch from Wednesday evening through Thursday afternoon for the Central Valley, the Mother Lode and the Sierra Nevada below 5500 feet.
Winds of thirty to forty mph with gusts up to sixty mph are anticipated in both the Central Valley and the Mother Lode.
In the Sierra Nevada, winds of thirty-five to forty-five mph are likely with gusts up to seventy-five mph.
Widespread tree damage and power outages are the largest concern.
Additionally, a Winter Storm Watch has been issued for the Sierra Nevada above 5500 feet from Wednesday evening through Friday evening.
The period of heaviest snow is expected from Thursday afternoon into Friday morning.
Snow accumulations of ten inches to three feet are expected above the 6000 foot elevation.
Snow levels will lower to around the 5000 foot elevation on Friday.