Prepare For Power Outages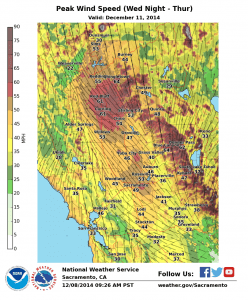 NWS Projected Wind Speeds

View Photos
Sonora, CA — With high winds anticipated later this week, Tuolumne County leaders are encouraging residents to be prepared for downed trees and power outages.
As reported previously, a storm system is expected to pass through the region late Wednesday night and into Friday.
"This particular system is carrying a wallop, and it looks as though we are going to get plenty of rain, and more wind than we bargained for," says Dr. Todd Stolp, Tuolumne County Health Officer. "We want people to be prepared, and they should stock up on provisions, in case trees come down, and they block roads or cause power outages."
The Tuolumne County Office of Emergency Services is also encouraging residents to check any generators, and make sure they have adequate fuel. In addition, make sure you have several days worth of needed medications and food.
The National Weather Service reports that winds are expected to reach 30-40 mph in the valley and foothills, and up to 70 mph at the highest elevations. The strongest winds and rainfall are expected during the Thursday morning commute. Thunderstorms are possible both Thursday and Friday.
Click here for the most recent weather information for the National Weather Service.
(Click on the images below to enlarge)