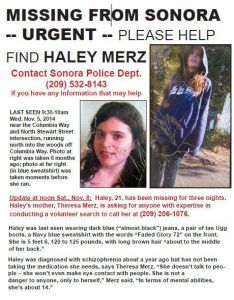 Haley Merz Flyer Update

View Photos
Sonora, CA – The mother of missing 21-year-old Haley Merz of Sonora is asking for a search specialist.  As reported earlier, Sonora Police put out a missing person with a health issues bulletin to the public on Wednesday.  Merz was last seen that day on the 100 block of Columbia Way near North Stewart Street near in Sonora heading into the woods.
"Haley was diagnosed with schizophrenia about a year ago, but has not been taking the medication she needs," says Theresa Merz, Haley's mother.  "She doesn't talk to people. In terms of mental abilities, she's about 14."
Now, Merz is asking the public to aid her in a possible search for her daughter with this statement:
"Late Friday night a Sonora PD sergeant and a tracker with a dog searched for several hours in the area where she was last seen but did not find her.
I feel like the mountain really needs to be searched thoroughly.  I just have a feeling that she didn't make it off that mountain, and could be injured or lost because she is very confused and disoriented right now.
But I want to ask everyone to continue looking throughout the county as well.  She has been gone now for three nights.  This is an urgent situation.  She had no food or water with her, and if she is out there I want to make sure we find her.
I am putting out a plea for someone with expertise in coordinating a community search, who would be willing to help in any way.  Please call me at (209) 206-1076."
Merz adds she is also in need of anyone who can provide tracking dogs for a search.
Haley Merz is described as  5'6", 125 lbs. with shoulder-length brown hair and green eyes.  She has a three-heart tattoo on the inside of her right ankle.  Merz was last seen wearing a blue hoodie, black pants, and tan UGG boots.  If you have any information on her whereabouts, contact the SPD at (209)-532-8141.