Pension Fund Transparency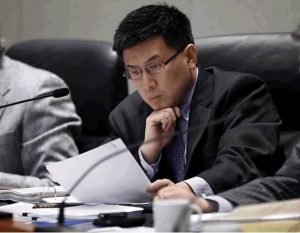 State Treasurer John Chiang

View Photos
Sacramento, CA – Continuing his quest for transparency, State Controller John Chiang has just made over a decade's worth of state pension fund information available for public view on his open data website, ByTheNumbers.sco.ca.gov.
The site already allows taxpayers to track balance sheets of the state's 58 counties and 450-plus cities in terms of their revenues, expenditures, liabilities, assets, and fund balances.
According to Chiang, this latest, massive data dump, representing over a million new data fields, provides "a one-stop portal into the financial underpinnings" of each of California's 130 public pension systems. The information comes as the state and local communities continue to wrestle with managing pension costs, including how to manage the unfunded liabilities associated with providing retirement security to police, firefighters, teachers and other providers of critical public services.
The site provides 11 fiscal years' worth of defined benefits for pension systems ranging from the California Public Employees' Retirement System – the nation's largest – which shows $281.1 billion in assets for the 2012-13 fiscal year, to the state's smallest pension system, which reports under $9,000 in assets for the same period.
Pension system data parsed from the site shows approximately 2.1 million active members in 2013, a slight decrease from a decade ago. Retired members who are drawing pensions, numbering over 1.2 million in 2013, represent an increase of over 20 percent from the last decade.
The data shows that employer contributions, now over $17.5 billion, have nearly tripled since 2003. Now at over $9 billion, total employee contributions to the system roughly rose some 40 percent for the same period.
The present value of benefits earned to date that are not covered by current plan assets has steadily risen over the past decade from $6.3 billion to over $198.16 billion in 2013. Total assets, $447.7 billion in 2003, peaking at $771.6 billion in 2007, were at $722.13 billion in 2013.