Motherlode Sheriffs Join Peers To Oppose Prop 47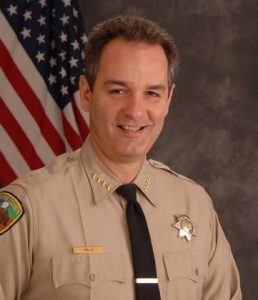 Jim Mele

View Photos
An overwhelming majority of California sheriffs are urging voters to vote "No" on Proposition 47, because they believe it will lead to more crime and criminals throughout the state.
With the General Election less than two weeks away, The State Sheriff's Association just released a formal letter to California voters, stating its position on the measure, which would require that certain drug and property offenses receive a misdemeanor rather than a felony sentence. Among the 56 of the state's 58 county sheriffs signing the endorsement are Tuolumne County Sheriff Jim Mele and Calaveras County Sheriff Gary Kuntz.
According to the letter, the sheriffs believe that Proposition 47 threatens the safety of communities across the Golden State and puts families at risk.
The state sheriff's group says that while Proposition 47 excludes registered sex offenders or other offenders with a prior conviction for serious or violent crimes, its intent — to reduce jail time for low-level criminals — fails, because those kinds of offenders rarely go to prison.
Instead, it says, the measure would effectively reduce the penalties for offenders of many other serious crimes, specifically mentioning offenses such as gun theft, possession of date rape drugs, and identity fraud. Once in effect, it would additionally enable lightening existing sentences, potentially releasing thousands of dangerous criminals into communities across the state.
Sheriff Mele says that Prop 47's label, the "Safe Neighborhoods and Schools Act," is a complete misnomer and potentially very confusing to voters. "People want their children and neighborhoods to be safe, but this [measure] is doing the complete opposite," Mele explains.
Mele adds, "We're very concerned…very worried that if this does pass, it will put more of a burden on law enforcement and…those individuals that need to be incarcerated, they will getting lighter sentences. We have to remember, that the whole reason for 'realignment' was to try to help rehabilitate these folks. With the lighter sentences, what will happen is that they will get minimum jail time, if any, and they'll be back on the streets, committing more crimes."
According to a just-published poll of likely voters by the California Institute of Public Policy, most voters identify crime as a problem in California and currently indicate they would vote "Yes" on Prop 47. To view the The Public Policy Institute poll in more detail, click here.