Arnold Waterless 'til Midnight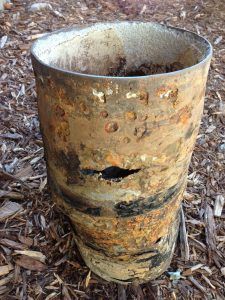 Section of Ebbetts Pass Reach 3A Pipeline Leak

View Photos
Arnold, CA –Arnold residents finally got their water service back around midnight Wednesday, following repairs to a second break that occurred within hours to the same 12-inch main line.
According to Calaveras County Water District Spokesman Joel Metzger, the second rupture happened in the evening, roughly a mile from a leak underneath the downtown area that crews had been working to repair since 2 p.m.
Metzger states, "We're very sorry for the elongated inconvenience to all the business owners and residents of the area, but I really do give praise to the field crews for spending half the night out there and getting these repairs done."
The age of the system is the main reason for leak, Metzger states. The line under emergency repair on Wednesday has been in the ground since 1965 and, in recent years, has experienced major corrosion issues, significant leaks and pipe failures.
"This is kind of a poster child of why the district is doing its capital renovation and repair program and investing millions of dollars into replacing pipes," Metzger explains.
He adds, "In fact, this pipe is going to go out to bid for replacement in early spring of next year, and we're hoping to get going on replacement by summer of next year and replace this stretch of pipe that just is really past its useful life."
According to Metzger, although the water district hopes to have the new line completed by the end of next summer, the process is "complicated," as the work will require moving the pipe to a slightly different area, which will involve new easements and coordinating with other utilities. The district has submitted an application to USDA Rural Development for a construction loan/grant for the project, whose estimated construction cost is $5 million.