Sonora High's Homecoming Game Tonight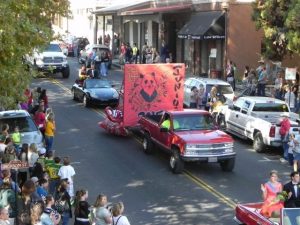 Sonora Homecoming Parade

View Photos
School and town spirit will be on display in downtown Sonora this afternoon for the annual homecoming parade.
Patrick Chabot, Sonora High School Principle, was Friday's KVML "Newsmaker of the Day".
"There's no question that Sonora is a great community and the school is part of the community," says Chabot. "Thanks to the cooperation of city, county and state sources, Highway 49 will be temporarily shut down this afternoon to have an enjoyable parade."
The parade is essentially made up of the entire student body and will include floats, classic cars and the Golden Regiment Marching Band. Immediately following the parade, the band will perform a concert at Courthouse Park.
This is the 32nd Anniversary of the Golden Regiment Band. They will be displaying their brand new uniforms at today's event.
The parade is scheduled to begin on Washington Street at 2:15 pm.
The Wildcats football team will make history this evening when they play the Summerville Bears for the first time since 1993 at their 2014 Homecoming game at Dunlavey Field.
The Homecoming Queen will be crowned during halftime.
A Homecoming movie, for students only, follows this evening's football game.
Tickets are being sold in advance in the Sonora High School office as a matter of convenience, but they will also be available at the entrance gates tonight.
According to Chabot, everyone who wants to get into the game will get in tonight, even if it means standing room only.
Tonight's game will be broadcast on Star 92.7 FM, shortly after 7pm. That is the radio home of the Wildcats. You can also listen to the same game, with a completely different perspective, on "Today's Country" 93.5 FM KKBN, the radio home of the Summerville Bears.
The "Newsmaker of the Day" is heard each weekday morning on AM 1450 KVML at 6:45, 7:45, and 8:45am.