Juvenile Hall Construction In February?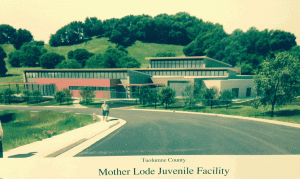 Mother Lode Juvenile Facility

View Photos
Sonora, CA — Construction on Tuolumne County's Juvenile Detention Facility should start early next year.
Deputy County Administrator Maureen Frank says the final plans will be submitted to the State Fire Marshall, and a third party administrator, in the next couple of weeks. Over the next month there is also paperwork that needs to be reviewed and finalized related to the $16 million in state grant funding for the project. The Board of Supervisors will review and likely approve those documents in November, and the project would then go to the State Public Works board for final approval.
"I'm looking at probably December, when this project will hit the streets and go out for bid," says Frank. "Bids will probably come in late January, and will probably be scheduled for Board award in February. Depending on everything, work will probably commence, on site, in late February."
The total project, estimated to be around $19 million, will have about a 16 month construction cycle. It would put the tentative completion date as June of 2016. There will  then be a 90-day shakedown period before it becomes operational. There will be 30 beds, and it will accommodate juveniles from Tuolumne, Amador and Calaveras Counties. The 18,000 square ft. building will be the first on the Law and Justice property situated off Old Wards Ferry Road.
Update 10/7/2015: "Monitoring Juvenile Detention Facility Construction"