Today's Natural Resource Summit Discusses Water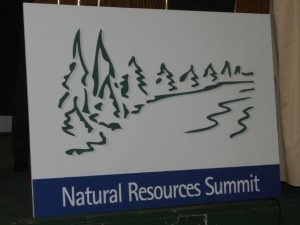 TuCare Natural Resource Summit

View Photos
The Tuolumne County Alliance for Resources and Environment (TuCARE)  is holding the 14th Annual Natural Resources Summit taoday from 9 AM – 1 PM in the John Muir Building at the Mother Lode Fairgrounds in Sonora.
Melinda Fleming, Executive Director of TuCARE, was Friday's KVML "Newsmaker of the Day".
Congressman Tom McClintock is co-hosting today's event.
The Summit is open to the public and admission is free.  Natural Resource agencies, organizations and businesses will provide information tables prior to and after the summit for attendees to peruse.  Doors open at 8:00 a.m.
Confirmed speakers for the summit include Keynote Speaker, Congressman Tom McClintock; Assemblyman Frank Bigelow; Dr. Roger Bales, UC Merced; Kirk MacKenzie, Defend Rural America.
The following speakers have been invited but were unconfirmed as of press time: Jeanne Higgins, Stanislaus National Forest Supervisor; Hugh Safford, ecologist and Malcolm North, Pacific Southwest Research Scientist, US Forest Service; and John Mills, local water expert.
Approximately 300 people attend the summit each year.  Topics covered in past years include political and environmental hot topics such as global warming, environmental extremism, and the importance of a strong wood products industry (logging) as it relates to forest health.
The focus of this summit will be on the future of Tuolumne County, regional and state water resources.  Legislation reform will be emphasized along with the most current, best science on the topic.
There is no cost for this event due to the generous donations by a variety of sponsors including the Stanislaus National Forest and PG&E.
TuCARE is a community based non-profit 501(c)3 organization founded in 1988.  Our membership is a cross-section of the community and includes business persons, educators, retirees, and those actively engaged in working on a daily basis with natural resources. TuCARE supports conservation and the multiple-use of natural resources on public lands.  Multiple-use policies allow for everyone to benefit. TuCARE seeks stability for resource industries in order to ensure the economic soundness and stability of local communities.
For more information contact, (209) 586-7816 or log on to tucare.com
The "Newsmaker of the Day" is heard every weekday morning on AM 1450 KVML at 6:45, 7:45 and 8:45 AM.