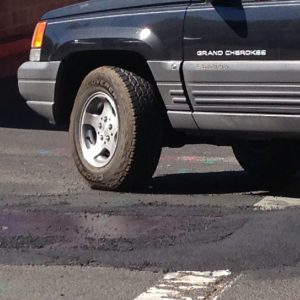 Stewart Street Sink Hole

View Photos
Sonora, CA — Sonora Public Works officials report a sinkhole on Stewart Street in downtown Sonora has gone from three feet deep to eight. As reported earlier, the roadway was shut down between Lyons and Theall Streets on Thursday and Friday as crews tried to determine what caused the sinkhole, but they had to give up when they hit a concrete slab.
Sonora Public Works Supervisor Bill Seldon explains the problem, "The hole is probably six or seven feet by five feet wide and then about eight feet deep. The concrete we believe is part of an old AT & T duct and its blocking an old storm drain that the soil is sinking down into." Seldon says they are working with AT&T engineers to find a way around the slab, but that could take several days.
Crews reopened the roadway on Friday by patching the hole with two metal plates. Seldon is hoping to continue work on Wednesday, at which time, the roadway will be shut down again.