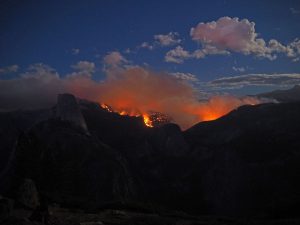 Meadow Fire

View Photos
Mariposa County, CA — There are several large fires burning in Mariposa County.
The Bridge Fire is burning on Highway 49, about 10 miles east of the community of Mariposa. The fire is 300 acres and 80% contained. No homes or structures are considered threatened.
The Montgomery Fire is estimated to be 80 acres and is burning in an isolated area of the Stanislaus National Forest, near the Montgomery Gulch. Firefighters have successfully been able to construct a line around the blaze.
And the largest incident, the Meadow Fire, continues to burn in Yosemite National Park, behind Half Dome, in the area known as little Yosemite Valley. All major roads going in and out of the park remain open. Park officials are expected to release a new size estimate later today. The latest from the park is that it has burned around 2,600 acres. The fire is believed to have been caused by lightning.
A special thanks to community news partners James Duff, George Serhan, Jen Steventon, Lynne Bruno, Mike McEvoy and Alyson Lee Macon for sending in photos. Pictures can be e-mailed to news@clarkebroadcasting.com.