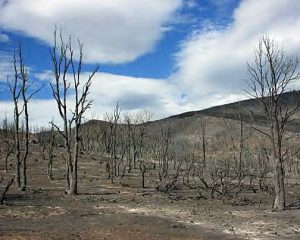 Rim Fire burned trees

View Photos
Sonora, CA – Today, Forest Service Officials released the proposed Record of Decision draft for salvage logging in the Rim Fire burned areas including the Final Rim Fire Recovery Environmental Impact Statement.
"There was a balancing act that went on," says Stanislaus National Forest Spokesperson Georgia Dempsey, "However, approximately 15,377 acres of land will be salvage logged."
Another 17,706 acres will be salvaged due to hazard tree removal along roadsides due to the risk of falling trees. That is a total of 33,083 acres of the 154,530 scorched on the Stanislaus National Forest.
The proposed Record of Decision lists the six main goals of the project:
1) Capture economic value through salvage logging
2) Provide worker and public safety
3) Reduce fuels for future forest resiliency
4) Improve road infrastructure to enhance hydrologic function
5) Enhance wildlife habitat
6) Provide opportunities for scientific research
Dempsey admits not everyone will be happy, but she says, "We have to take everything into consideration. Plus we're bound by law to look at certain things like threatened and endangered species."
The Record of Decision could be finalized tomorrow. Forest Officials report operations may begin after the Notice of Availability in the Federal Register is published, which is expected on September 5. Dempsey calls it a win-win situation for all. "I will say thousands of jobs will still result out of this modified alternative and certainly there should be some boost to the local economy. That's a great thing."
As we reported earlier, the document was expected last Friday, but a printer problem delayed its release. Click here for the full report.