Brown Signs Bigelow's Livestock Bill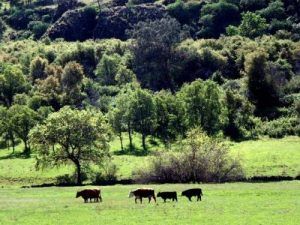 Cattle

View Photos
Sacramento, CA — Governor Jerry Brown has signed another bill authored by Assemblyman Frank Bigelow designed to crackdown on cattle theft.
Last year the Governor signed AB 924, which realigned funds associated with livestock theft to the Bureau of Livestock Identification, to help law enforcement investigate cases of cattle theft. Yesterday, Brown signed AB 1722, which prevents anyone convicted of cattle theft from holding a registered cattle brand for a period of five years. Those found guilty of livestock theft would also be subject to more frequent brand inspections after the five-year ban has passed.
"This is an important victory for our state's agriculture industry, and I'm pleased that the Governor listened to the voices of rural California," says Bigelow. "By prohibiting individuals convicted of livestock theft from holding a registered brand, we can help prevent these crimes from occurring in the future."
AB 1722 is one of several bills the Governor has signed during the legislature's summer recess.