Update: Powerful Storm Comes To An End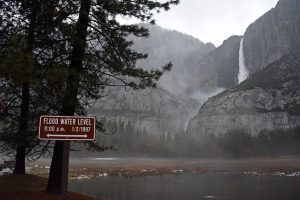 File Photo: Heavy Rain In Yosemite

View Photo
Heavy rain that has fallen over the area will continue to bring rises to some local creeks into early tomorrow morning.
The National Weather Service has extended the Flood Advisory for Tuolumne County, Calaveras County and the Central Valley until 5 AM Tuesday.
Low lying areas have experienced water buildup. Minor flooding is ongoing. Flooding of creeks and low spots will continue to be likely. Widespread roadway flooding is expected with some roads possibly becoming impassable. Flooding will also continue to be possible in poor drainage areas.
Additionally, a Flash Flood Watch remains in effect for Yosemite National Park and the lower Sierra Nevada in Mariposa County through 11 PM this evening.
The Merced River at Pohono Bridge may rise to near the flood stage of ten feet by this evening.
A Flash Flood Watch means that conditions may develop that lead to flash flooding. Flash flooding is a very dangerous situation. You should monitor forecasts for Flash Flood Warnings and/or Flood Warnings.
Turn around, don`t drown when encountering flooded roads. Most flood deaths occur in vehicles. Be aware of your surroundings. In hilly terrain there are hundreds of low water crossings which are potentially dangerous in heavy rain. Do not attempt to cross flooded roads. Find an alternate route. Move away from recently burned areas. Life-threatening flooding of creeks, roads, and normally dry stream beds is likely. The heavy rains will likely trigger rockslides, mudslides and debris flows in steep terrain, especially in and around these areas.
Additionally, the National Weather Service has issued a Winter Storm Warning for the western slope of the northern Sierra Nevada and Yosemite National Park above 6,000 feet, until 11 PM tonight.
Additional snow accumulations of one to seven inches is likely above the 6,000 foot elevation.
Winds in the Sierra Nevada may continue to gust as high as 65 mph. Very strong winds could cause extensive tree damage.
Campers and hikers should also be especially prepared for the winter like conditions. The weight of the snow can cause tree limbs to break and fall, so use caution when picking a campsite.
A Winter Storm Warning means there will be snow covered roads and limited visibilities. Travel is not recommended while the Warning is in effect. If you must travel, keep an extra flashlight, food and water in your vehicle in case of an emergency.