Flushing Cash Down The Toilet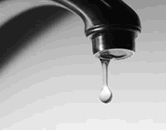 Water

View Photos
San Andreas, CA –   The drought has the Calaveras County Water District (CCWD) reminding customers to maintain their water systems.  CCWD officials say a dripping faucet or leaky toilet is not only costly, but a waste of much needed water.
"Helping us stretch our water this year, will definitely help us next year", said Mitch Dion, General Manager.  "Join us by trying to save 20 gallons everyday by using water carefully.  Fixing leaks is just one smart way to avoid wasting water".
The District has endorsed the U.S. Environmental Protection Agency's (EPA) Fix-A-Leak campaign.  It gives tips on water conservation including switching out old toilets for new low flow ones. To entice customers to do that, the District is giving this incentive.
"What we're doing is we're offering two rebates per household of $25. All you have to do is send in a copy of the bill and we will credit your account," says Jeff Meyer the CCWD's Director of Administrative Services.
In addition, the EPA reports more than a trillion gallons of water are wasted each year from household leaks.  Click here for more water saving tips.