Update: Power Outage Impacting Several Thousand In Tuolumne County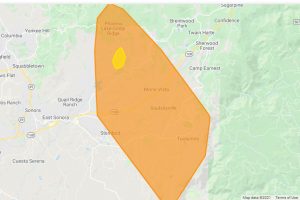 PGE Sonora area power outage

View Photo
Update at 7:45 p.m.: PG&E reports all of the nearly 4,446 customers without lights have had their electricity restored. There were 266 in the Phoenix Lake area that remained without light until around 7:30 p.m. Utility spokesperson Megan McFarland reported to Clarke Broadcasting that the cause of the outage was due to a pole on fire. She further detailed the general background on a pole fire, also called a flashover, and provided the details below on how they can ignite:
During a dry season, dust, dirt, salt, and other substances, including ash from wildfires, can accumulate on power lines.
When the first mist or rain arrives after a long dry spell, it turns this mixture into mud, which conducts electricity. This can damage electrical equipment and potentially result in pole fires, otherwise called Flashover, and cause outages.
This is an infrequent issue that tends to occur in late summer or early fall and outages tend to be concentrated or clustered in a certain neighborhood.
PG&E has a line washing program to keep its larger electric transmission lines clean, so these types of outages tend to impact the distribution system serving local neighborhoods.
Update at 5:30 p.m.: PG&E crews have been able to restore power to the majority of the 4.500 customers whose lights went out around 4 p.m. stretching from Phoenix Lake-Cedar Ridge to Tuolumne. Those still without lights are 266 customers in the Phoenix Lake- County Club Estates Subdivision along Paseo De Los Portales Road. Their restoration time is estimated at 7:15 p.m. The utility reports the cause of the outage is a pole fire.
Original post at 4:45 p.m.: Sonora, CA — PG&E is reporting a power outage in the Sonora area impacting nearly 4,500 customers.
The lights went out around 4 p.m. The outage stretches from the Phoenix Lake-Cedar Ridge to Highway 108  to Tuolumne. It includes Mono Vista, Soulsbyville and parts of Standard. The utility has not determined a cause, but crews are on the scene investigating. The total number of customers affected by the outage is 4,446.  The company gives an estimated restoration of sometime in the seven o'clock hour.