Update: Crash Temporarily Closes Highway 26 In Calaveras County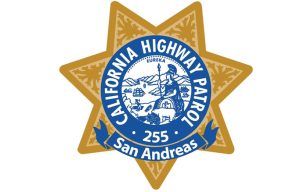 CHP San Andreas Unit logo

View Photos
Update at 4:45 p.m.: New details are being released on a vehicle versus power pole crash on Highway 26 near Josephine Lane that left some nearby residents in the dark. When officers arrived on the scene, the driver of the Mazda MZ6 sedan had left the scene. San Andreas Unit CHP spokesperson Eric Parsons reports officers also discovered another surprise. "The vehicle involved ended up being stolen out of Freemont. The passenger remained on scene and was transported to the hospital suffering moderate injuries. The driver was later apprehended on foot and was arrested."
The passenger was also arrested for being in a stolen vehicle. Parsons did not release their names. Parsons revealed that when located by the officers, the driver had a dog with him. While he did not know the breed, Parsons says the pooch was turned over to animal control.
Currently, 37 PG&E customers in the area have been without electricity most of the day remain without electricity as crews work to repair the damage to the pole. The estimated restoration time is 6 p.m.
Below updates written by BJ Hansen.
Update at 10:35am: One-way traffic control is anticipated to be in place throughout the remainder of the morning and into the afternoon at the intersection of Highway 26 and Josephine Lane as a result of a crash reported below.
Original story posted at 6:26am: Calaveras County, CA — Law enforcement officials are investigating an early morning crash on Highway 26 near Josephine Lane.
A vehicle reportedly struck a power pole at 5:30am and it caused severe damage to it. The CHP indicates that no one was inside the vehicle when the initial officers arrived on scene. A witness told officials that a man walked away from the crash with injuries. Highway 26 is anticipated to be closed until at least 7am as officials clean up and investigate the crash.