Mid-October Outdoor Weekend Events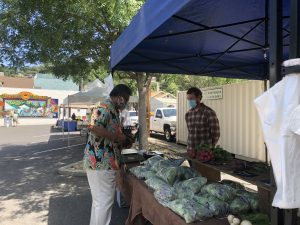 Farmer's Market in Sonora May 30, 2020

View Photo
There are several outdoor markets and events planned for this weekend. First from 4:00 pm to 6:00 pm is CalaverasGROWN in San Andreas, a Certified Farmers' Market. The Thursday market will be done for the season October 29, details are here.
The Peaceful Valley Farmers Market is Friday from 4:00 pm to 8:00 pm. It aims to boost the local economy and support local agriculture production, and this is their last market of the season. Details are in the event calendar here.
Friday evening is a Town Hall to answer questions about Ballot Measure U. The virtual meeting will be hosted by Malcolm Carden, President of the Friends of the Library. Attendees will be Supervisor Ryan Campbell, representatives from Cal Fire and the Friends of the Library, as well as other community members. Zoom information and more details are in the event listing here.
Saturday morning from 7:30 am to 11:30 am is the Sonora Certified Farmer's Market. The Sonora Market will also be open next week, but that will be the last market of the season details here.
In Jamestown on Saturday beginning at 10 am is the Sidewalk Sale and Street Fair. Expect local merchants and visiting vendors both Saturday and also Sunday with music, face painting, a balloon artist and more. More event details are here. Also in Jamestown on Saturday is the Master Gardener Plant Faire from 10:30 am to 1:00 pm. Choose from a large selection of vegetable starts, herbs, perennials, succulents, trees and more. All their plants are raised by local Master Gardeners so they will grow well here. For details are in the event calendar here. 
In Twain Harte on Saturday and Sunday, from 10 am to 5 pm, is the Twain Harte Outdoor Christmas Market. There will be artisans, vintage jewelry, health and wellness products, specialty foods and yard sale booths.  Event organizers say "We want to kick of the holiday season with a safe unique shopping experience, especially with the cancellation of so many Christmas/holiday events this year." In keeping with the holiday theme, there will be holiday decorations and Christmas trees, vendors will be offering one-of-a-kind items including photography, metal sculpture, jewelry, succulents, leather goods, specialty foods including olive oil, olives, jerky and nuts. There will also be a food area with ribs, kettle corn, shaved ice and more. More information is in the event calendar here.
Saturday you can support youth and young adult mentoring in Calaveras County by ordering a Parking Lot Pick-Up Dinner. The Calaveras Mentoring Foundation event is called The Party To Go! and it is from 3:00 pm – 6:00 pm. At time of purchase, ticket holders will choose a pick-up location in either Murphys or Angels Camp. Saturday is also when their on-line auction will begin and run for five days, get all the details here.
Lastly Sunday in Murphys is CalaverasGROWN Certified Farmers' Murphys Market, from 9:00 am to 1:00 pm as detailed here.