Three New COVID-19 Cases In Calaveras County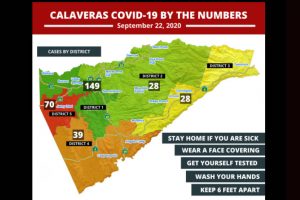 Calaveras County Public Health COVID-19 numbers 9-22-20

View Photo
San Andreas, CA – There are three additional cases of COVID-19 in Calaveras County and it remains in the "substantial risk" category on the state's 4 Tier system.
Those new cases include one female and two males between 18 to 49 years of age. One case resides in District 2 and the other two are in District 5.
At Tuesday's Calaveras County Board of Supervisors meeting, County Health And Human Services Director Kristin Stranger gave an update on possible plans to move the Frogtown coronavirus testing facility to Sonora, stating, "Toulumne County did approach the state about the potential to relocate the site due to more use from Tuolumne County residents. There were some community questions yesterday about an item that was on the Sonora City Council agenda about a potential lease for a new location in Tuolumne County. Ultimately, that item did not materialize and the location did not materialize."  However, Tuolumne County continues to push for the move and Calaveras Health Officer Dr. Dean Kelaita gave a November 1st date for the possible relocation.
It has been just over three weeks since Governor Gavin Newsome implemented the state's 4 Tier color-coded system, as details here. Calaveras County remains in Tier 3, the "red substantial" risk level, meaning that some indoor business operations can proceed with specific modifications. Public health officials are urging residents and businesses to help bring that level down.
"We all play an essential role in slowing the spread of COVID-19 and protecting the health of Calaveras County. When we make every effort to do so, we can lower our county risk level and loosen any restrictions. This will allow us to open up other businesses and activities in the county," said Dr. Dean Kelaita, Calaveras County Health Officer. "We can get there if together we practice physical distancing, wear a face covering, get tested, wash your hands often, stay home if you are sick, and avoid any gatherings especially where physical distancing and masking is not being followed."
There is a total of 314 confirmed cases of COVID-19 in the county. That number is made up of 139 males and 175 females with the majority, 128, in the 18-49 age range. To date, seven cases remain active and 293 cases have since recovered while a total of 14 fatalities are linked to COVID-19.