Federal Wildfire Reform Bill Has Initial Public Hearing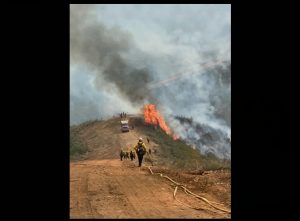 Moc Fire Suppression Efforts
Washington, DC — A bill by Senator Dianne Feinstein is being endorsed by groups like the California Farm Bureau, the Tuolumne County Supervisors and Governor Gavin Newsom, and it is opposed by many major environmental groups like the Sierra Club.
Senator Feinstein's Emergency Wildfire and Public Safety Act had its initial public hearing yesterday in the Senate Energy and Natural Resources Committee in Washington, DC. It is co-authored by Republican Steve Daines of Montana.
Feinstein opened by stating, "Let me be blunt: California is on fire. Smoke is blanketing the entire western part of the United States…California's traditional fire season has only just started, but five of California's 20 largest fires in history have already occurred this year." (Click the video box to view her entire statement)
The federal bill was endorsed this week by the Tuolumne County Supervisors, citing that it would speed up the review process for high priority forest management projects. It would also supply revenue for some select wildfire mitigation projects.
Click here to view the board's entire letter.
At the request of Feinstein, Governor Gavin Newsom has also signed on in support.
In addition, the California Farm Bureau has endorsed the bill, adding, "Our organizations believe that increasing the pace and scale of forest management activities, including mechanical thinning and controlled burning, reduces the threat of catastrophic fire, protects lives and communities, and helps safeguard Western natural resources and economies. We are also very supportive of the provisions in the bill that would streamline permitting processes for hazardous fuels reduction projects and post-fire recovery efforts."
Many national environmental organizations, like the Sierra Club, have come out in opposition. The Sierra Club states, "This legislation is a wish list from the timber industry and would create more controversy and legal uncertainty."
After the initial federal hearing yesterday, the bill will now continue through the legislative process. Feinstein, a Democrat, indicated she hopes it will be approved quickly, with bipartisan support.