Update: Sheriff's Deputies Used Tear Gas To Storm Home On Ponderosa Drive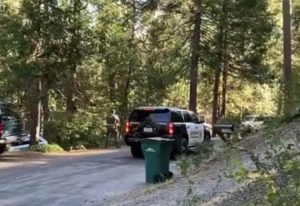 Deputies Along Ponderosa Drive in Twain Harte

View Photo
Update at 7:15 p.m.: Clarke Broadcasting has learned that tear gas was used to storm a home in Twain Harte where Tuolumne County Sheriff's officials believed a wanted suspect was holed up.
Sheriff's deputies were called to a home on Ponderosa Drive around 7 a.m. for a report of a man and woman arguing in the roadway with the man,  37-year-old Jay Whittle, allegedly swinging a baseball bat around. Sheriff's spokesperson Nicco Sandelin relays that Whittle had several drug and weapon warrants out for his arrest and after calling for him to exit the two-story home several times, the SWAT team took action. Sandelin recounts, "There was gas deployed into the residence prior to our SWAT's entry in an attempt to get whoever may have been inside the residence to come out."
Sandelin did not have any information regarding what Whittle and the woman were arguing about or exactly what their relationship is. He says they are seeking help from the public to locate the woman for questioning and Whittle for his outstanding warrants.
Also, as reported below, two adults and a child exited the home when after deputies had surrounded the residence and ordered anyone inside to come out. Sandelin did not know the relationship between them, Whittle and the woman either.
Of note, Whittle was just arrested in February after a child welfare check led to his arrest for being in possession of heroin and methamphetamine, as reported here. 
Update at 4:05 p.m.:  Tuolumne County Sheriff's officials have released more details on a reported domestic dispute just after 7 a.m. on Ponderosa Drive in the Twain Harte area.
Sheriff's officials relay that 37-year-old Jay Whittle of Twain Harte and a female were in the middle of the roadway arguing and Whittle was allegedly waving a baseball bat. Since Whittle was wanted on several felony warrants, deputies responded to the area and surrounded his two-story house. Deputies then made announcements for anyone inside the residence to come out. Sheriff's officials say shortly after that order, two uninvolved adults and a child came out of the house.
Sheriff's officials say both adults told deputies that Whittle was staying at the home but they could not say whether he was currently there or if anyone else was inside the residence. That prompted the Crisis Response Unit, consisting of SWAT and CNT (Crisis Negotiations Team), to be called to the scene. They tried to make contact with anyone inside the home, but without hearing anything for several hours, eventually, the SWAT team was deployed. No one was found inside the house.  The investigation is still ongoing and no further information is available at this time, according to sheriff's officials.
Update at 10:35am below details written by BJ Hansen: Tuolumne County Sheriff's Office deputies remain outside a residence on Ponderosa Drive in the Twain Harte area, and there is no change in status from the earlier post. We'll keep you updated as more information comes into the news center. The sheriff's office continues to request that travelers avoid Ponderosa Drive.
Original story posted at 9:50am: Sonora, CA — The Tuolumne County Sheriff's Office is asking everyone to avoid Ponderosa Drive in the Twain Harte area this morning.
Deputies are on the scene of a reported domestic dispute. The office reports, "Announcements to the people inside the house have been made without response. The Crisis Response Unit has been activated."
No additional information is immediately available. Be prepared for activity in the area.