Update: Winter Storm Watch Issued For The Sierra Nevada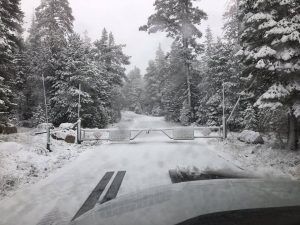 Camp Connell Maintenance Supervisor Mike Johnson's windshield view at the Lake Alpine gate on Saturday, November 4, 2017

View Photo
The National Weather Service has issued a Winter Storm Watch for the Sierra Nevada above 4,500 feet, from Saturday morning through Monday afternoon.
A pair of Pacific storms are set to arrive this weekend bringing significant late season snowfall to the mountains.
The initial storm arriving on Saturday will bring periods of snow to areas between 4,000 and 5,000 feet. Half-a-foot to a foot of snow accumulation is possible.
The stronger storm with heavier snowfall is expected on Sunday. An additional one to two feet of snow is forecast.
Snow showers will continue into Monday with the snow levels lowering down to 3,000 to 4,000 feet.
The total snow accumulation above 4,500 feet, will range from a foot-and-a-half to three feet.
Winds could gust as high as 50 mph over exposed ridge tops.
In the Sierra Nevada, expect snow covered roads, travel delays, possible chain controls and poor visibility.
A Winter Storm Watch means there is potential for significant snow, sleet or ice accumulations that may impact travel.