Update: Thousands Still Without Power In Mother Lode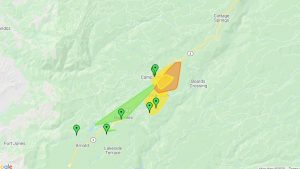 Ongoing PGE outage north of Arnold Mar 19 2020

View Photos
Update at 3:21 p.m.: Extended power outages due to significant numbers of storm-downed trees and other challenges continue to leave thousands in the dark.
Thursday afternoon, PG&E spokesperson Brandi Merlo reports, "More than 165 crews working to keep restoring customers in the Sierra Foothills. Many should be back in service by tomorrow."
She acknowledges, "In some areas, extensive damage will result in still longer outages. We know that some customers have been without power for some time. We understand the hardship of this situation and want those customers to know our crews are working safely and as quickly as possible to restore their power."
Currently, 2,049 customers are without electricity in Calaveras County near the Highway 4 corridor above Arnold. Specifically, the outage map shows well over 900 in the vicinity of Big Trees Village, 590-plus in Dorrington, nearly 60 in the Camp Connell area, and over 100 near Highway 4 above White Pines into Camp Connell.
In Tuolumne County, the utility reports 327 outages between Long Barn and Cold Springs below Pinecrest Lake.
According to PG&E, 6,014 remain without power in El Dorado County, 1,815 in Nevada County, 909 in Placer County, 766 in Sierra County, and 413 in the Pioneer area of Amador County.
BJ Hansen posted this earlier story.
Original Post at 7:41 a.m.: Sonora, CA — The electricity has been out for many PG&E customers since a heavy storm system passed through the region over the weekend and into the early part of the week.
PG&E reports that 12,000 customers, statewide, are still without power. In Tuolumne County, there are 470 customers still in the dark, with the majority, 425, being around Pinecrest.
In Calaveras County, there are 2,163customers without electricity, and the majority, 1,964, are in the Arnold area.
PG&E spokesperson Brandi Merlo relays, "We know that some customers have been without power for some time. We understand the hardship of this situation and want those customers to know our crews are working safely and as quickly as possible to restore their power. More than 150 PG&E crews are working to restore power in these regions. Crews continue to work as conditions allow and areas become accessible with more crews on the way. Low-elevation and often heavy snow results in many trees falling into PG&E's electric equipment, causing significant damage and resulting in outages."