Update: Second Plane Crash At Columbia Airport This Month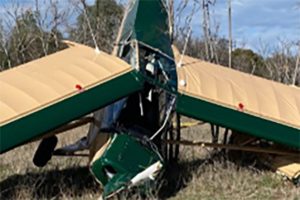 Single engine passenger crash at Columbia Airport 2-22-2020

View Photos
Update at 4:20 p.m.: A hazmat crew has been called to the scene of the plane crash at Columbia Airport due to fuel leaking from one of the wings of the aircraft. Tuolumne County Environmental Health Director Rob Kostlivy tells Clarke Broadcasting that absorption pads and boom barriers were put under the wings to stop the liquid from spreading, as can be seen in pictures in the image box. He says about 30 gallons spilled onto the ground.
Kostlivy also adds that the pilot, whose name is not being released, was trying to land when the crash occurred, but he does not know what caused the crash or the make or model of the plane. Further details on the crash landing are below.
Update at 2:15 p.m.: Emergency responders are reporting minor injuries in a plane crash at Columbia Airport, as the pilot had a head laceration and complained of shoulder pain. The pilot's identity is not being released at this time. The crash has been reported to the FAA and NTSB, according to first responders. Further details are below.
As earlier reported here, this is the second plane crash this month, on Feb. 5th another plane crashed near the airport while attempting to land. The pilot and a passenger died, as detailed here.
Original post at 2:10 p.m: Columbia, CA — First responders are heading to a report of a small airplane that went down at Columbia Airport.
The plane crashed near Technology Drive and Airport Road, east of the runway. It is reported to be a single passenger aircraft that is off the runway. There is no word on injuries. It is not known whether the plane was landing or taking off. An update will be provided as soon as more information comes into the newsroom.