MyMotherLode Supports Donation Efforts For Recent Wildfire Victims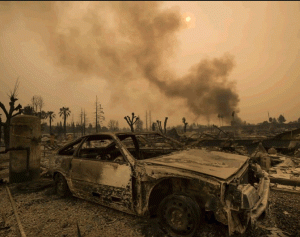 Fire Destruction In Sonoma County

View Photos
At least 31 people are confirmed lost directly due to the fires burning in Northern California this week. MyMotherLode.com invites you to donate to recovery efforts, with a list of Foundations that support local nonprofits in the areas that have burned.
The Atlas Fire, mostly in Napa County, is the largest and least contained fire reported as 43,762 acres and only 3% contained. The Napa Valley Community Foundation Disaster Relief Fund is here. This Foundation has already received money from Facebook and Google. Their Disaster Relief Fund mobilized for the thousands of residents displaced since the night of October 8th. The Fund was established in 2014 to respond to the South Napa Earthquake with a $10 million lead gift from Napa Valley Vintners. They report the fund ultimately helped provide services to more than 12,000 earthquake victims, and cash aid to 1,400 of those hardest-hit by the last declared disaster in the region.
Many other fires are burning in West Napa County toward and into Sonoma County. The biggest fire is the 34,000 acre Tubbs Wildfire. Sonoma County also has a Community Foundation Resilience Fund to assist those impacted by the fire. Donating to their Resilience Fund here will support local Nonprofits that have been impacted by the fires and the nonprofits that will continue to support fire victims directly in the months to come.
Mendocino County has a Community foundation relief fund here. The more than 32,000 acre Redwood Complex Fire, prompted the Foundation to provide immediate response grants to North Coast Opportunities, Inc. who they say developed a fair, efficient, and transparent process to distribute needed relief funds to individuals and families affected by fires in Lake County over the past three years.
An estimated 25,000 people have been driven from their homes by the flames according to the Associated Press. So far Sonoma county has confirmed 15 deaths, Napa county 2, Mendocino 8 and Yuba County 4 for the total of 29, notably while fires are burning in some parts of Solano, Sutter and Lake counties they have not reported any fatalities so far.
Yuba county also has the Sutter-Yuba Community Foundation that supports their Fairgrounds here, but they do not have a specific fire fund set up yet.
Additional firefighting resources have been requested from neighboring states through the Federal Disaster Declaration as reported here.
Red Cross continues to help by managing many shelters you can donate to the situation through both the disaster fund and you can specify the California wildfires fund here. A list of local blood drive information is also on the Red Cross site here.
Airbnb has set up a way to use their system to temporarily house wildfire victims here.
Calfire's Recent Active Fire Map is here.