Now Open: Sonora And Ebbetts Passes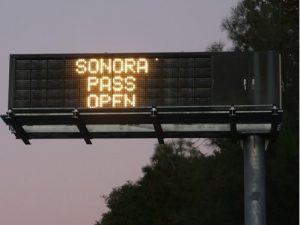 Sonora Pass Sign

View Photos
Sonora, CA —  Caltrans reports that Highway 108 Sonora Pass is now open, joining Highway 4 Ebbetts Pass as available to motorists through the Mother Lode.
According to Caltrans, road crews were able to remove snow, clear debris and make necessary repairs to reopen the pass around 12:15 p.m. The pass had been closed since Wednesday, November 19, due to wintry storm conditions.
"Crews were able to reopen the pass in time for this holiday weekend," says Caltrans information officer Angela DaPrato. She adds, "We also want to remind motorists that weather and road conditions can change rapidly, and motorists should expect the worst conditions — and be prepared when traveling in areas subject to hazardous conditions, such as Sonora Pass, where weather can change rapidly."
Yosemite Park officials are continuing to monitor and reassess Hwy 120 Tioga Pass conditions, which are reportedly still icy and unsafe for travel. With the potential for more wintry weather in the next few days, it is possible that the pass may remain closed through the holiday weekend.
Check myMotherLode.com regularly for the latest road condition information and updates.