The In-style In-law Suite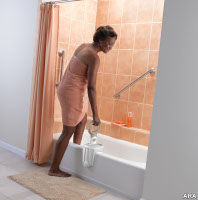 (ARA) – The In-laws. Often, nothing can scare a person more than hearing that they're coming to visit. But as the years go by, and your parents (or your spouse's) get older, visits become more frequent and the thought of sharing a home with them becomes a welcome idea.
Three or more generations live together in 3.9 million American homes, according to the 2000 U.S. Census. A number of households consist of adult children caring for aging parents. But, don't just stick Mom and Dad in the guest room when the time is right for them to move into your home. Having a well-designed in-law suite can make sharing a household much more enjoyable for all parties involved.
'Adding an in-law suite is a great idea, especially for homeowners who want to add extra space to their existing home,' says Laurie Birko, marketing and communications manager for Creative Specialties International. 'By thinking about the design and amenities aging parents will need, you'll have a universal space that will be safe and accessible not just for them, but for every member of the family.'
Keep the following tips in mind when creating an in-law suite that is both appropriate and adjustable to meet your family's needs:
Privacy Please
'Privacy is one of the most important features to consider,' Birko says. ' A home that provides private spaces for each generation, as well as common gathering spaces, is the best way to make the new living arrangements work.' Location is key, but try to keep the in-law suite on the first floor for easy accessibility.
However, creating a suite on another level offers extra seclusion. Also, if possible, provide your in-laws with a separate kitchenette. That way they'll have a sense of independence, but within the comfort and care of your home. A separate entrance is also another addition that can give your in-law suite more autonomy. Just be sure to check local building codes to see if there are any restrictions before you begin the remodel.
Custom-Built Baths
The bathroom is one of the most difficult rooms for older people to maneuver. It has the potential to make your in-law suite full of danger zones if you don't carefully plan. Some aging parents may find the toilet seat is too low to accommodate their limited mobility and puts unnecessary stress on the legs, knees and back. An elevated toilet seat increases comfort and safety levels. Home Care by Moen offers a Locking Elevated Toilet Seat that subtly complements the décor of any bathroom, and locks securely on round and elongated toilet rims. Or, if the bath is too far from the bedroom in your in-law suite, Home Care also offers a new Premium Bedside Commode for added safety and comfort – right next to the bed – just in case.
Standing for long periods or slipping in the shower are also concerns in the bathroom for older adults. If you don't want to break the bank installing a built-in seat in the shower, try Home Care's new Premium Shower Chair. It offers superior safety and added conveniences in the shower – all with attractive styling. It has anti-slip rubber feet that provide superior stability, as well as adjustable height settings. The rubber-grip support handles offer added ease and support when standing or sitting, and a basket organizer and handheld shower holder help keep necessary items conveniently close.
To prevent slipping, the new Premium SecureLock Tub Grip lends a stable helping hand for stepping into and out of the tub. The new design features an easy-locking lever to ensure a tight fit to most tubs without harming the tub surface. An ergonomically designed handle features an anti-slip grip to provide optimal support and comfort. Plus the innovative design offers easy installation and removal – no twisting motion and no tools are necessary.
Versatility is Key
Just because you're planning for this extra space to be a restful haven for your parents, doesn't mean it will always serve that purpose. It's wise to remember that since it may only be used for a limited time, make sure it can flex to other purposes when it's no longer needed as an in-law suite. Be careful to not design a space so specialized that it will impair the future resale value of your home. Perhaps it will become a guest suite, a home office or a master suite, so look for stylish accessories and accents that can help your space transition. But for now, as you're planning for your in-law suite, be sure to keep these tips and products in mind to keep Mom and Dad safe and comfortable.
All items from the Home Care by Moen line of bath safety products are available nationwide at Lowe's and at select home health and medical suppliers.
For more information on Home Care by Moen's line of bath safety products, visit homecare.moen.com.
Courtesy of ARAcontent
---