Love the Look of Wood Flooring, but Not the Hassle or Cost? Think Laminate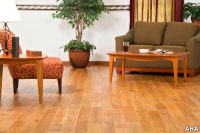 (ARA) – Natural wood once reigned as the product of choice when it came to selecting an attractive flooring material that would impart a warm, homey and upscale appearance. Today, with many new laminate flooring options available, homeowners are taking a closer look at what appears to be authentic wood, but delivers the beauty at a much lower cost with far more benefits.
Unbeatable Performance
Today's laminates feature the realistic characteristics of wood in both texture and grain while providing durability that is unmatched by real wood. Laminate wears much better than wood and requires far less maintenance, so homeowners can enjoy living their active lifestyles without worrying about how their floors are going to hold up to everyday wear and tear.
Scratching and indentations can easily mar the beauty of real wood, but laminate resists scratches and nicks. Because it's so durable, laminate flooring requires no waxing or varnishing and is much easier to clean than traditional wood floors. In addition, laminate doesn't need costly and time-consuming refinishing like real wood does. As an example of this exceptional durability, all products in Tarkett Residential's new North American Laminate Collection feature a high-performance layering system and offer a lifetime warranty against wear, fading and staining.
Up-to-Date Designs
The newest laminates offer both traditional and contemporary designs, from natural oaks to exotic wood patterns. Colors range from dark wood grains to warm and light tones that will complement any room of the house in need of a fashion update. Tarkett's Laminates, like its New Frontiers collection, also feature high-gloss finishes to lend the look of exceptional elegance. In addition to a wide assortment of colors, grain designs and textures, it's available in realistic 6-inch wide planks. Other laminate products are also available in a variety of plank widths – from narrow four-inch boards to wide 8-inch planks.
Today's laminate flooring not only comes in wood grain patterns but can also replicate the look of tile, natural stone and metallic. The tile and stone laminates provide an upscale appearance but without all the fuss – cold floors, grout to scrub and cracking tiles.
Do-It-Yourself
You don't need to be a pro to install a new laminate floor. Laminate floors come in easy-to-install planks that snap together, with no need for messy glue or nails to pound. Laminate can also be used over many types of existing flooring, including concrete and real wood, so often new subfloor installation is not necessary.
Cost Benefit
In nearly every case, laminate flooring simply costs less than traditional wood flooring. Today's laminates have the realistic look of authentic wood, but without the high price tag. Laminate flooring can cost less than half the expense of real wood products. Because it's so simple to install you can do it yourself, or if you use a contractor, typical installation costs should run far less than installing real wood planks.
So for the great look and warmth of wood, the strength to stand up to most anything your home dishes out, and a great price, consider laminate for your next flooring choice.
For more information on laminate flooring, go to www.tarkett.com.
Courtesy of ARAcontent
---