Add Warmth and Create a Healthier Bathroom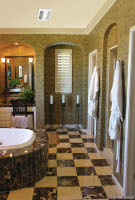 (ARA) – The last place you want to be on a chilly morning is barefoot on your cold bathroom floor waiting for the icy shower to heat up. The last thing you want to think about while you're there is all the contaminants in the air. There are many ways to warm up the bath and make it a healthy place you look forward to luxuriating in as the weather turns cool.
Baths often feel cold because of the abundance of tile and ceramic fixtures like sinks and bathtubs. But because bathrooms tend to be the smallest rooms in a home, they're the easiest spaces to warm up with updates and decor. That means they're also quicker to sanitize.
Add Visual Warmth
Bathrooms can be stark and sterile when white tile and white walls are all you see. Often, people use cool hues such as pale blue or gray-green to create a spa-like atmosphere. You can make the bathroom feel cozier by using warm colors like ruby and brick reds, ochre yellow and chocolate and khaki browns.
Thick rugs and plush, velvety towels in colors to complement your new warm palette envelop you and keep your feet off the tile floor. Look for Egyptian cotton bath sheets; they're some of the most luxurious, soft and plush towels. Accessorize with candles in 'warm' scents like vanilla and spice and you'll have a glowing haven for bubble baths.
Laundering towels, rugs and shower curtains regularly in an eco-friendly detergent helps keep them free of dirt, mold and allergens.
Add Heat & Control Moisture
'Forget about goose bumps when you're stepping out of the shower on cold days, ' says Victor Flynn, national marketing manager for Panasonic Home & Environment Company. 'The Panasonic WhisperWarm Ventilation Fan will add warmth to your bathroom when the temperature drops. It even has a built-in damper to keep cold outside air from coming in through the fan.'
The WhisperWarm ventilation fan (Panasonic.com/VentFans) not only heats the bathroom, but also improves indoor air quality by exhausting the air and removing odors and contaminants. The fan comes with a light and a nightlight that use compact fluorescent bulbs to illuminate your space in an earth-friendly way; it's also available without the lighting feature. And, unlike ventilation fans of old, this fan is compact, lightweight and very quiet.
The bathroom is rife with sources of moisture like tubs, showers, toilets and sinks. They create a moist, humid environment that allows contaminants like mold, pollen, dust mites, viruses and bacteria to flourish. Moisture accumulates in wall cavities, cracks and crevices which can lead to the growth of mold and mildew and make your bathroom feel cold and damp all the time. Proper ventilation can combat moisture accumulation and make your bathroom a healthier environment.
For an easy DIY solution, adding a heated towel bar is a great way to keep towels toasty for when you step out of the shower. Towel bars can be freestanding or hardwired and come in many styles and finishes to complement your decor. Towel heaters also help damp fabric dry so mold and mildew don't grow.
A bigger project is to add under-floor, or radiant, heating. The floors are warmed by either circulating warm water or by an electrical cable, making what was once ice cold a treat for your bare feet.
Seal It Up
For bathrooms with older, drafty windows a noticeable fix will be to 'shrink wrap' them to keep cold air out. Plastic window seal kits are sold at home improvement stores, and are easy to install and use. All it takes is the heat from a hair dryer to seal the plastic to the windows. Plugging up holes keeps warm air in and cold air out.
Don't dread your cold, dank and drafty bathroom any longer. A few simple changes can mean a warmer, more luxurious and healthier bath experience.
Courtesy of ARAcontent
---