Is Your Fence Preventing Buyers From Seeing Your Beautiful Home?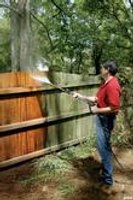 Curb appeal is the first impression buyers get when they see your home. But sometimes they don't even get a chance to see your actual home because their eyes first land on the fence that surrounds it.
If that's the case with your home, then taking a closer look at the type of fence and its condition is well worth your time. Or perhaps you're considering putting in a fence to add privacy and protection. The right fence can add not only security but also value to your home and become an attractive selling-point for potential buyers.
Choosing the right fence There are many different variations of fences from wood to chain link to ornamental — the style depends on your needs and taste. Here are a few common styles.
Wood Ever popular wood fences can be very beautiful but they can pose problems such as rotting and termite infestation. If you decide to go with a wooden fence, James Mata, owner of West End Fence says galvanized posts are your best bet. He says often he is called out to replace a worn-out wooden fence with another wooden fence which actually creates a bigger problem. 'There's an existing fence and the [homeowners] want it replaced so they get another wood fence and they provide the termites with more food,' says Mata.
Mata says he mostly uses galvanized posts to place in the ground when building fences. 'I can build anything off of them. I can build a glass fence to an eight-foot custom lattice fence,' says Mata.
The galvanized post is a metal post that is sealed to prevent it from rusting and inserted into concrete in the ground. It's used as the framework for building the fence and it helps keep termites from attacking as they do with an ordinary wooden fence. 'The termites can't come up through the post,' says Mata. He adds, 'They're not coming above the dirt and jumping on the fence. Why? Because they can't exist on top and their arch enemy is the sugar ant,' explains Mata.
Chain link: The chain link fence is inexpensive but may be the least attractive. It's maintenance-free but likely won't dazzle your buyers. The chain link fence is highly popular with commercial properties or in residential backyards where homeowners are trying to keep children and pets safe from pools. It doesn't offer much privacy unless you purchase the slats that can be inserted into the body of the fence.
Ornamental: These fences are pronounced and make a statement. They often scream 'look at me.' If you use the traditional wrought iron, there will be more maintenance involved (including scraping, sanding, and painting) than if you go with an aluminum ornamental product.
Vinyl: A growing sector in the fencing market is the vinyl product. It boasts no more need for hiring painters and no reason to fear termites with this type of fence. Some, however, consider it a little too plastic-looking. 'If you have a nice house that looks like it's made out of wood and you want to keep up with the neighborhood, you may want to stick with wood,' says Mata. However, vinyl fence product specialists say it's a great-looking alternative to wooden fences because it is maintenance-free and has been proven to increase the value of a home.
Maintenance Tips: Wood and wrought iron fences can require the most maintenance but even some of the other fences need a little checking on from time to time. Here are some suggestions.
Wood fence care: With wooden fences, trim back your shrubs and trees so that after a rain or watering the fence can dry faster. Make sure that annually you inspect the boards for loose boards and rotting. Also, dig into the dirt around the fence posts to check for rotting there. Using a water-repellant sealer can help to preserve your wooden fence.
Chain link — simple care: These are basically maintenance-free but make sure you buy a material that is treated to prevent rusting.
Ornamental care — could be a lot of work: As briefly mentioned, if the fence is made from wrought iron it should be coated with a rust-resistant seal. But depending on weather conditions, you still may need to strip, sand, and repaint the iron.
Vinyl brush and hose it clean: These fences should be hosed down and scrubbed with a large brush to revive their look and keep them from building up dirt. For stains, you can try mixing 1/3 cup of powered detergent, 2/3 cup of a household cleaner, and a gallon of water — the mixture with some good old-fashioned elbow grease should clean it up.
When it comes to choosing a fence, beauty is in the eye of the beholder. However, one thing is certain. If the fence that surrounds your home is rickety and worn out, buyers will come away with a shabby first impression that may not ever convince them to further explore the inside of your home.
Written by Phoebe Chongchua for www.RealtyTimescom. Copyright