Deadline Approaches For California No Party Preference Voters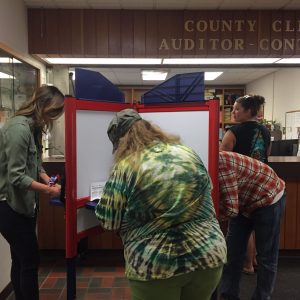 Voters filling out ballots at Tuolumne County Elections Office in Sonora

View Photo
Sacramento, CA — More than five million independent voters, called "no party preference" in California, are eligible to vote in the March 3 presidential primary, but a change of registration may be needed.
Independents can only vote in the Democratic, Libertarian or American Independent party primaries and not the Republican, Green and Peace and Freedom parties unless they are willing to register as a member of those parties. Independents have until Feb. 18 to make that change.
Independents who vote at a polling place will be asked by poll workers if they want a presidential ballot. If voting by mail, a postcard from the county asking if they want a presidential ballot should have already been received and by the same next month deadline. Most California voters now vote by mail. Ballots for the March primary will go out on Feb. 3, the same day as the Iowa caucuses.
Didn't get one or accidentally threw it away, a registration card can still be obtained by calling, emailing or faxing elections offices in Tuolumne or Calaveras County. For those who may get a primary ballot without a presidential contest, they can request another and wait until that ballot comes to vote. Those ballots can also be acquired at a vote center or polling place, click here for polling locations.
A reminder, the California DMV automatically registers people to vote when they get a driver's license or ID card, so some people may not know they are registered. Also, voters can register to vote all the way through Election Day. Their registration will be conditional, meaning their vote won't be counted until elections officials can verify that they are eligible to vote.
To register to vote or check your registration status, click here.