Calaveras MET Seizes $3.5 Million In Illegal Marijuana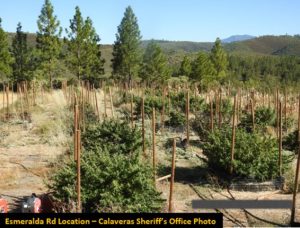 Grow Bust Esmerelda Road Sept 24 2019 CCSO Photo

View Photos
San Andreas, CA – Grow busts in Murphys, Avery and San Andreas resulted in four arrests and seizure of about $3.5 million in illegal weed.
According to Calaveras County Sheriff's spokesperson Sgt. Greg Stark the warrant searches occurred over three days last week.
On Tuesday, Marijuana Enforcement Team (MET) members arrived at a property in the 4000 block of Esmeralda Road in Murphys where they located and destroyed 934 marijuana plants and about four pounds of processed marijuana. They also collected evidence of a commercial butane honey oil lab operation for creating concentrated marijuana extract.
Stark says 30-year-old Krsnathakur Widmer of Badger was cited for illegal marijuana cultivation, and driving with a suspended license; 27-year-old Dezmond Reynolds of Phoenix, AZ, was also cited for illegal cultivation. The sergeant notes that this grow site was previously eradicated in 2017 and 2018.
Wednesday, a search warrant served in the 5800 block of Segale Road in Avery resulted in the destruction of 711 marijuana plants and seizure of a firearm. Arrested was 22-year-old Christopher Lee of Avery for illegal cultivation, possession of marijuana for sale, and conspiracy to commit a crime. Also cited for illegal cultivation was 35-year-old Jessica Cyr of Avery.
Then on Thursday, the MET delivered a search warrant at a parcel located near the 1900 block of Toll Bridge Road in San Andreas, where deputies eradicated 1,408 marijuana plants. While no subjects were located at the scene, the MET collected evidence. According to Stark, this location was previously eradicated in 2018.
You can view photos by clicking into the image box slideshow.
According to the sheriff's office, current variables used to estimate the approximate street value for marijuana are between $1,300 and $2,000 per plant and half-pound of pot when from an indoor grow; between $1,000 and $1,500 for plants and pot per pound yielding from greenhouses; and between $700 and $1,000 for plants and processed pot per pound from outdoor operations although very large plants can be valued higher.
The Calaveras Sheriff's Office encourages anyone with knowledge of illegal marijuana operations to call the anonymous Marijuana Tip Line at 209 754-6870.