Update: PG&E Helicopter Inspecting Lines In Sonora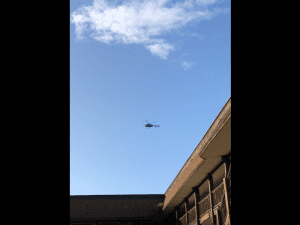 Helicopter Over Sonora
Sonora, CA — Many in the downtown Sonora area have noticed a helicopter flying low this morning.
Clarke Broadcasting has confirmed that PG&E is inspecting power lines as part of its wildfire safety program, and it will continue throughout the week.
Spokesperson Brandi Merlo says, "Helicopters patrolling the power lines will be leaving out of the Columbia Airport and typically fly from 8 a.m. to 4 p.m. Electric employees will be in the helicopters, which will be flying low at an altitude of about 300 to 500 feet and following power lines, in order to inspect the equipment from the air."
Patrols will continue through the week and include areas of Wards Ferry, Columbia, Jamestown, Cedar Ridge, Crystal Falls, Mi Wuk, Sierra Village, Twain Harte, Sugar Pine, Cold Springs, Pinecrest, Strawberry, Cow Creek, Sonora, Groveland, and Tuttletown.
Click on the video box to see the helicopter flying overhead earlier today.