Update: Vehicle Hits Bear Near New Melones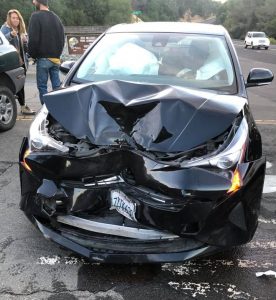 Prius versus Bear

View Photo
Update at 10:30 am: Providing additional information about a crash that occurred early this morning on Highway 49 near the Archie Stevenot Bridge, the CHP reports that a bear walked out in front of a 2017 Toyota Prius, at 5:55am. The collision caused extensive damage to the vehicle. The driver and passenger, 42-year-old Damian Riley and 33-year-old Andrea Riley, both of Columbia, reported minor injuries, and the bear took off running towards New Melones and its condition is unknown. If you come across a bear in that area, you are asked to not approach it, but to contact the CHP or the Department of Fish and Wildlife so that its condition can be assessed.
Original story posted at 6:30 am: Tuolumne County, CA — The CHP and other emergency responders are on the scene of a crash involving a vehicle versus a bear.
It happened shortly after 6am on Highway 49 in Tuolumne County near the visitor entrance to New Melones in the vicinity of Studhorse Flat Road.
The California Department of Fish and Game has been requested to assist. The person in the vehicle reportedly suffered minor injuries. A tow truck is responding to remove the vehicle. Be prepared for activity in the area.