Senate Approves Prison Early Release Plan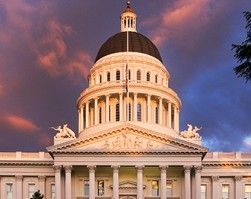 Capitol

View Photos
Sacramento, CA — A controversial proposal to reduce the state's prison population has passed through the Senate and is being debated in the Assembly.
"In order to reduce the populations in the prisons, they are changing a number of crimes that could be potential felonies to straight misdemeanors," says District Attorney Donald Segerstrom, who is concerned with the package. "Most significant in this area is probably auto theft. If the value of your car is less than $2,500, it will become a misdemeanor. For those families that can least afford to be the victims of auto theft, the crimes against them become less serious."
The plan would reduce the prison population by 27,300 inmates, and create an independent sentencing board.
It would also allow for the early release of inmates that complete rehabilitation programs, such as earning G.E.D.'s and finishing vocational training.
Certain inmates would be allowed to finish sentences at homes or hospitals under GPS monitoring, and some felons who violate probation would be able to serve time in county jails rather than state prison.
The package is part of a $1.2 billion plan to cut prison spending.
Written by bjhansen@mlode.com.